Blockscout Newsletter: September 2023
Blockscout is seeing wide adoption in the ecosystem, and our monthly newsletter highlights the latest Blockscout updates, news and happenings.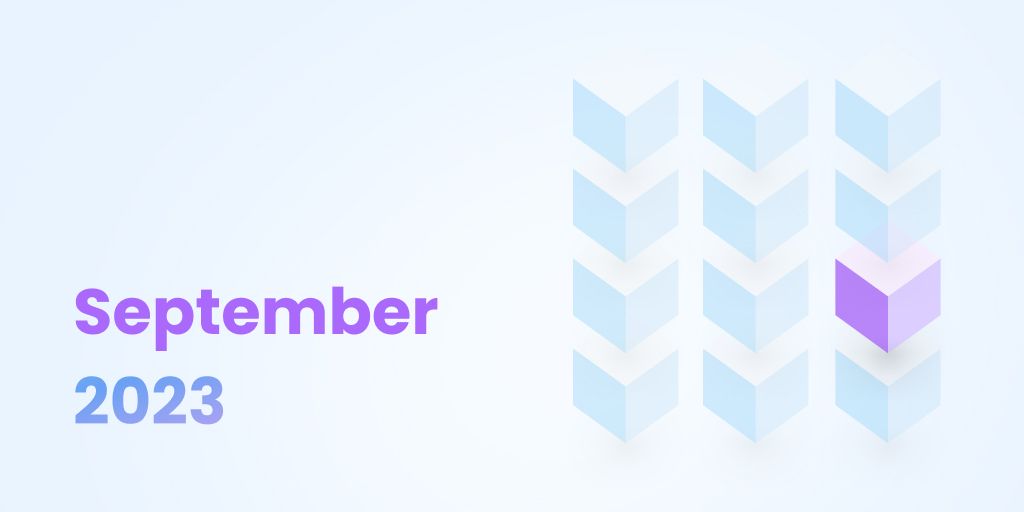 Welcome fellow explorers 🧑🏼‍🚀! Blockscout is the #1 open-source decentralized explorer available today. Thanks to community members like you, Blockscout continues to grow and thrive, supporting more than 400 chains across the L1, L2, and rollup landscape.
Our monthly newsletter goes out to all MyAccount community users on supported chains. We hope you find it informative, and would love to get your feedback on topics you'd like to see covered or questions you have.
September was a huge month for Blockscout. We launched 4 new hosted mainnet instances, 2 Sepolia instances, announced multiple integrations, and still found time to speak at a stellar conference 😅! Before we get into it, take a minute to learn how to add your app to the new Blockscout App Marketplace 👇
Add your App to the Blockscout App Marketplace
Blockscout is evolving into more than a block explorer. The newly designed Blockscout Portal not only provides vital chain data, it also acts as a gateway to on-chain applications and a comprehensive platform for interactivity.
The App Marketplace displays popular apps and projects, giving anyone the opportunity to interact with an app directly from Blockscout. The App Marketplace is currently available for Gnosis, Optimism and Base, and more chains will offer this feature in the near future.
Submitting an app to the marketplace couldn't be easier. Simply go to Apps in the menu, then scroll down to the bottom and click +Submit an app.
You will be asked to submit info including the contract address, icon, description, categories and contact email. Once the chain admin has a chance to review, they will accept or reject your app and if accepted add it to the curated list.
It's a great way to get more exposure and new users to your app on a chain supported by the Blockscout App Marketplace.
New Instances & Integrations in September
Sepolia Support
Goerli testnet has served the community since 2018, however it will soon be put out to pasture 🐎. Goerli was officially deprecated on January 2023 but still supported through January 2024. That date is quickly approaching, and Sepolia is now the preferred testnet for testing decentralized applications, smart contracts, and other EVM functionality (Holešky is another new testnet slated to replace Goerli as a staking, infrastructure and protocol-developer testnet).
Blockscout now supports the Sepolia testnet and the Optimism Sepolia testnet. Visit these instances to test functionality and debug smart contracts before going to production. Additional Sepolia instances coming 🔜 🔵!
Gnosis DAO votes for Blockscout
We're excited to continue our work with Gnosis mainnet and Chiado testnet! Gnosis DAO voted to renew their Blockscout instances to support users and devs of their chain. Gnosis Chain is one of Blockscout's flagship deployments with unique functionality supporting bridged tokens and other attributes. We look forward to continuing this collaboration and seeing what innovations Gnosis Chain brings next!
POW Summit
ETC put on an amazing Proof of Work Summit in Prague at the end of September. Blockscout founder Igor Barinov spoke on the role of block explorers and why decentralized infrastructure is so important, and unveiled the brand new explorer instance for Ethereum Classic.
Visit us on X or Discord for more information or to get your explorer questions answered. If you are a chain or a project interested in working with Blockscout, please get in touch 👋!