Blockscout + ZetaChain
Blockscout is collaborating with ZetaChain to create a robust, open-source explorer for the ZetaChain mainnet launch.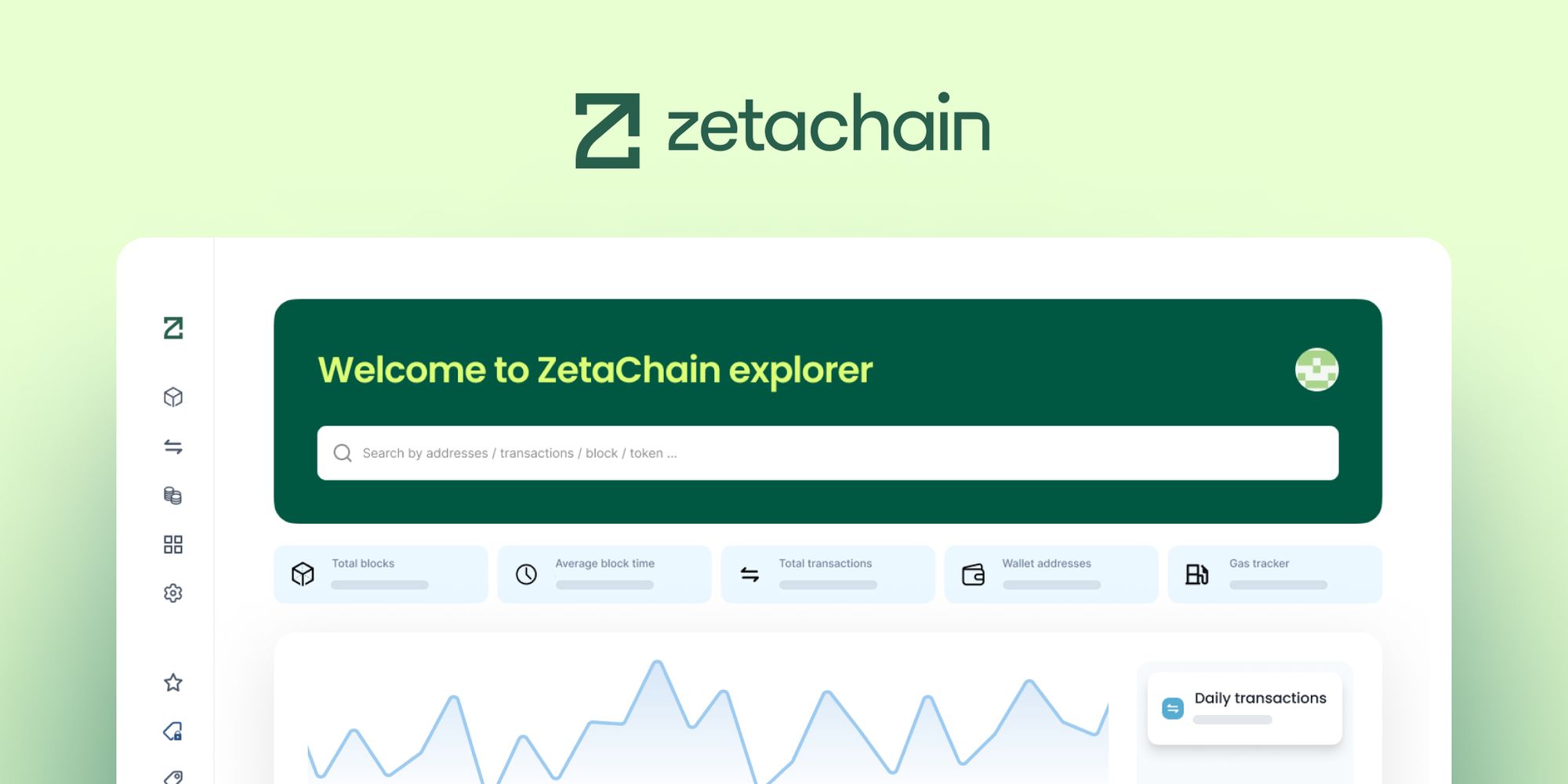 Partner Spotlight: ZetaChain
Blockscout is collaborating with ZetaChain to create a robust, open-source explorer for the ZetaChain mainnet launch. Blockscout now supports Athens-3, the final, launch-ready and incentivized testnet environment, which was released in June 2023. Athens-3 marks the next big milestone in our cross-chain partnership.
ZetaChain is one of the first projects to launch with the latest version of Blockscout, Blockscout Portal. Blockscout Portal provides a re-imagined UI along with advanced smart contract verification services and many other exciting new features.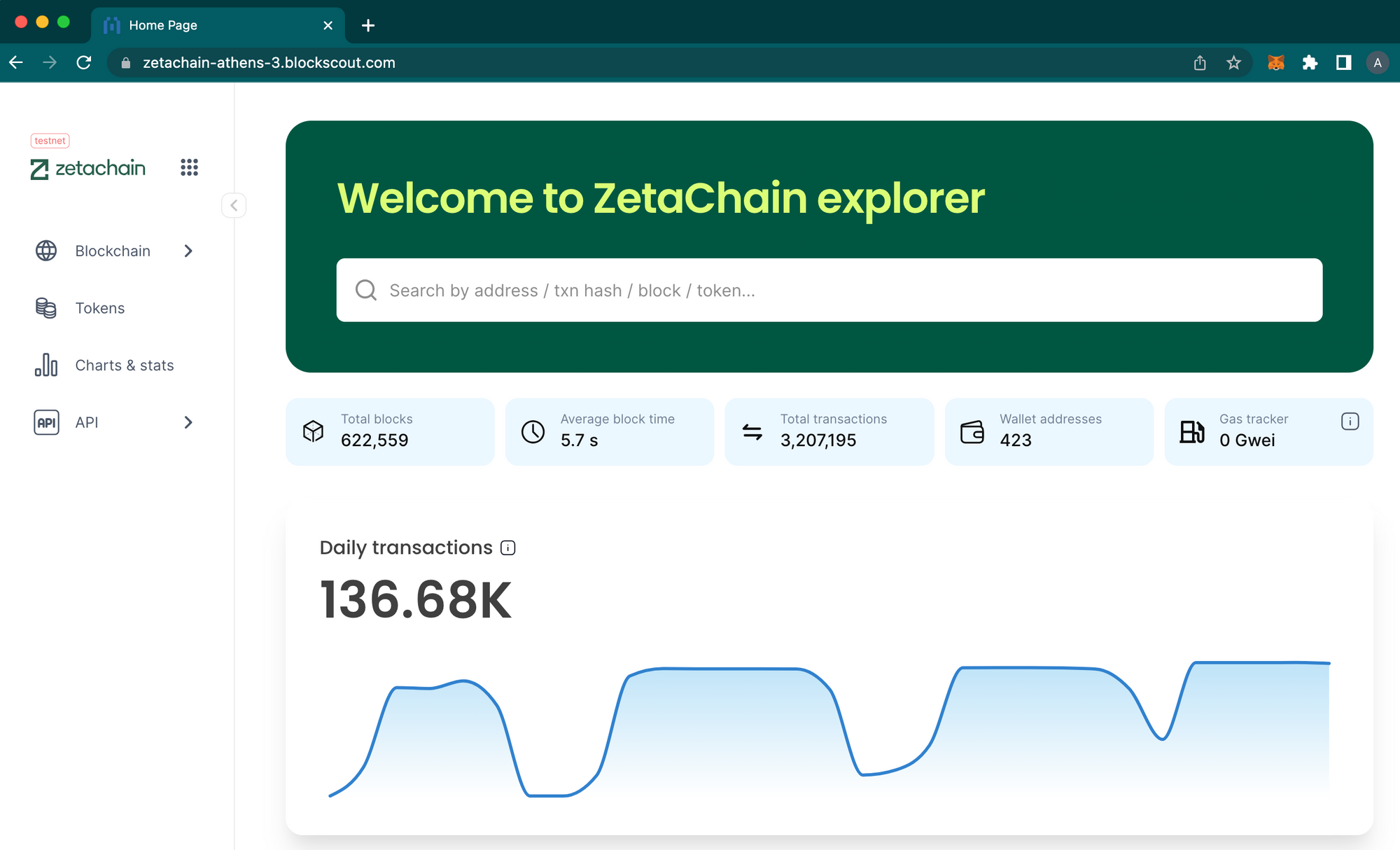 We sat down with ZetaChain's Head of Community, Jonthan Covey, to talk about their Blockscout journey, why they chose Blockscout as an explorer, and features they are integrating with Athens-3 and the upcoming mainnet launch. Here are a few highlights:
Hi Guys! It's been great getting to know your team and diving into the ZetaChain architecture and unique aspects of the chain. From your perspective what makes ZetaChain stand out from other L1s in the space?
Yes, it's a crowded space now. While many legacy and new L1s are coming out with various tradeoffs, we still deal with a major app fragmentation issue so it's difficult for users to navigate across ecosystems. The market has responded with new interoperability solutions and approaches, but they often lack easy and complete blockchain compatibility, and use questionable security architectures (for example, custom bridges that wrap/lock tokens).
ZetaChain is special because it's the first public L1 blockchain with built-in interoperability to all chains (EVM/non-EVM, L2s, legacy non-smart chains like Bitcoin, future chains not yet to market - it's truly chain-agnostic). And what really makes ZetaChain stand out is that its smart contracts can access and manage assets, data, and liquidity on any of those external connected chains - thereby enabling the first true cross-chain dApps. So developers can write and maintain one contract for all chains: less code, fewer deployments, stronger transaction atomicity, one hub to manage state. It's a profound advancement in dApp creation, unlocking a much greater level of optionality and freedom, and it has enormous implications for end-user experience and safety.
It's great to see interoperability at the forefront and a structure that makes it easier for cross-chain deployment and organization. Now that the testnets are out, when are you planning the mainnet deployment?
Target is towards the end of Q3. The incentivized testnet (Athens-3) announcement gives a better sense of phases, which lead into the mainnet launch. Given the long term Athens testnet is decentralized with community participants, we want to make sure the network is stable and that the existing ecosystem of ZetaChain developers have time to migrate their apps. Over the next few months, we'll see close to two years of development with the Community come together. It's very exciting!
Interoperability and cross-chain connectivity are core values for both Blockscout and ZetaChain. Blockscout is used across multiple chains and many networks. Was this a factor when considering Blockscout as an explorer for ZetaChain?
The number one reason we chose Blockscout was because of its feature-rich support for EVM and wide use in the community. This is critical for robust development as well as a segment of developers who need access to this data via API.
What Blockscout features are you most excited about for your chain and your end users?
We're excited about Blockscout's robust EVM indexing capabilities and the fact that it's a familiar interface to developers. To go a layer deeper, EVM support unlocks something pretty special for cross-chain dApp builders on ZetaChain, which is that Blockscout can support exploration of transactions on zEVM that are caused by transactions on external chains. Developers consume this information while still remaining in the framework of EVM. In the future, we can also add cross-chain transactions (CCTXs) into Blockscout's indexing.
Blockscout Portal is much more configurable than the previous version. We're working on a few customizations including branding updates but also customizations unique to ZetaChain. Can you elaborate on why some of these customizations (support for Cosmos transactions, some API configs) are important?
With regard to cross-chain, ZetaChain has some pretty non-standard needs as the blockchain uses Cosmos SDK for consensus while supporting an EVM smart contract platform layer on top (zEVM - the system that enables omnichain dApps). In our native explorer ZetaScan, we had to build new components such as functionality to represent cosmos transactions as EVM transactions. What's cool is that any EVM tool that integrates with us such as Blockscout gets the same functionality.
Down the road, we see opportunities to do custom work with Blockscout to advance the space around cross-chain network exploration. The concept of calling contracts from external chains and ability to generate outbound transactions on any external chain – all from a single place on ZetaChain – demands we offer new solutions. Nothing really comprehensive in the cross-chain space exists right now.
Blockscout is available as a standalone open-source explorer, but also offers full-service hosting for interested chains.  Why did the ZetaChain team choose to leverage Blockscout infra for hosting and support purposes?
We're laser focused on building the next standard for blockchain interoperability, that is particularly the blockchain protocol and omnichain toolkit and ZetaDocs for cross-chain dApp building. And like ZetaLabs testnet, we want to continue building and open sourcing our own products along with ecosystem builders to push the omnichain space forward and show what's possible.
We chose to work with a reputable entity like Blockcscout because we feel hosting and maintaining indexing infrastructure distracts us from that mission. Blockscout is an expert in managing this type of infrastructure. It would hold our team's productivity back to take it on ourselves.
Another very important reason is that the ecosystem should have a variety of choices for explorer so it's not dependent on a single place AKA our in-house ZetaScan explorer. Having Blockscout manage ZetaChain Blockscout infrastructure creates fault tolerance. We take the same approach whether it's explorer options, or RPCs, APIs, dApps/products, Etc. – it's better for the ecosystem.
Anything else you'd like to add?
I feel like a real movement is forming behind ZetaChain. The Community just crossed 1.5 million members across all important crypto markets globally. And the level of quality compared to some other artificially fueled web3 communities is high.
Why this is I suppose that people are really enthusiastic about the technology and approach. That is, ZetaChain is an L1 that agnostically connects with other chains and grows with everyone instead of trying to steal liquidity and users from other ecosystems – perpetuating the fragmentation issue.
It's sort of like Conway's Law, which says that organizational structure and communication patterns impact the overall quality and effectiveness of the software created. I would say the openness of ZetaChain brings us back in touch with the promises of web3 – composable, interoperable, public, fluid, friendly… we need to maintain these principles in the era of multichain, and more broadly speaking with respect to the advent of AI and traditional centralized software models.
Totally agree, there's been a lot of fragmentation as newer chains have exploded with different value propositions and niches. As things settle, there is a need for more connections and coordination through interoperability principles, tools, and networks that support users across different contexts. We're excited to support ZetaChain and the mission of interoperability and ecosystem collaboration!
About ZetaChain
ZetaChain is the world's first and only decentralized EVM-compatible L1 blockchain with built-in cross-chain interoperability, connecting all blockchains, even non-smart contract chains like Bitcoin and Dogecoin. With ZetaChain's complete Omnichain toolkit, developers can build true omnichain dApps from a single point of logic, and users can access all of their assets, data, and liquidity in a single place, securely.
Follow ZetaChain on Twitter @zetablockchain and join the conversation on Discord and Telegram. Reach out to partnerships@zetachain.com if you're building on top of ZetaChain.