LightLink L2 scales with Blockscout block explorer
The LightLink Pegasus and Phoenix instances are scaling up quickly! Since launch we've seen increasing usage as LightLink finds an audience of DeFi users who seek speed and safety with ultra-fast block times and security backed by Ethereum.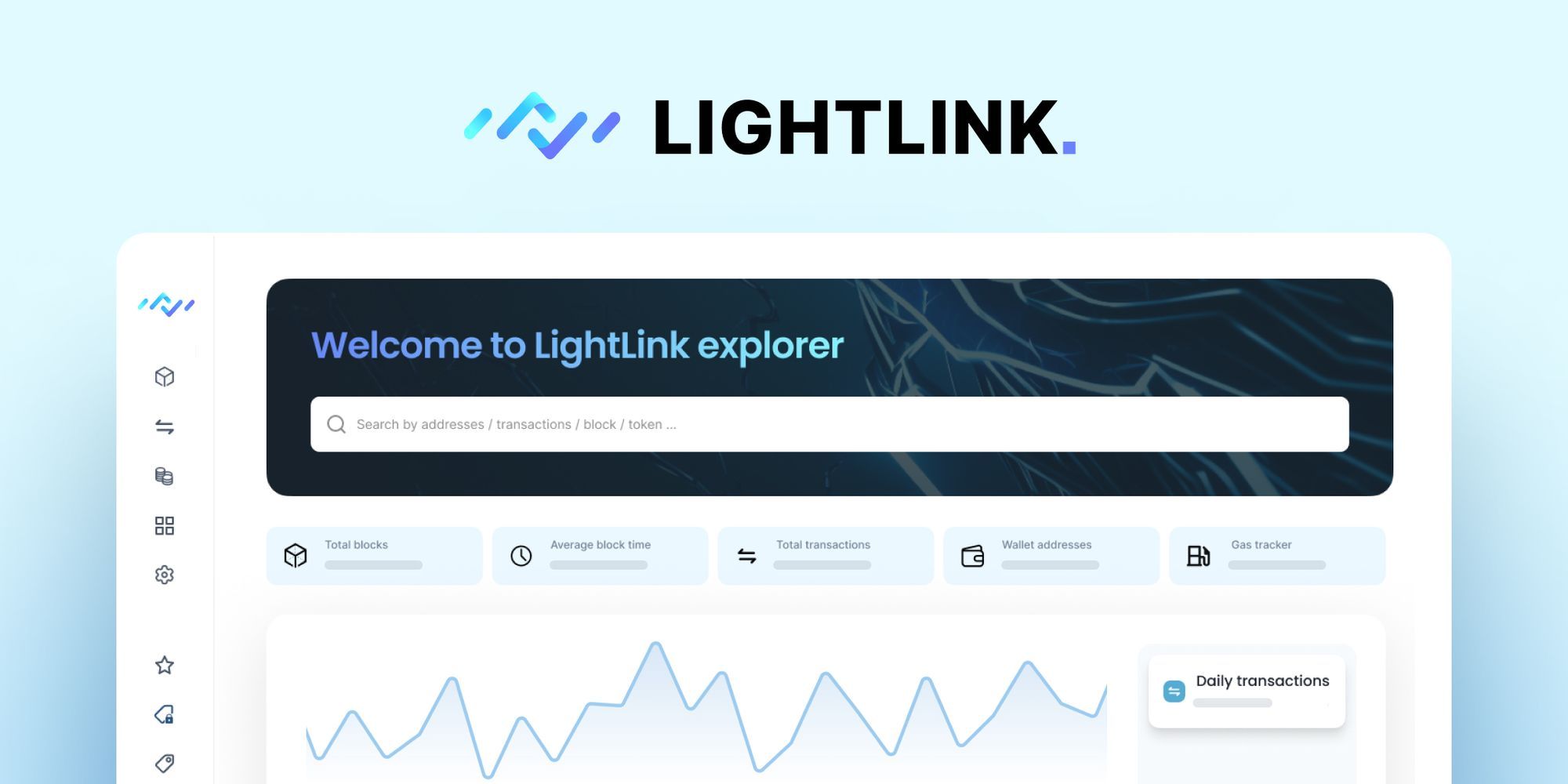 LightLink is gaining traction as a fast L2 with user-friendly features. We recently had the chance to talk with CEO and Founder of LightLink, Roy Hui. In this short interview we ask Roy about the things that set LightLink apart, why Blockscout is their explorer choice, and what we can expect from this new chain on the block.
Checkout the LightLink Blockscout instance at https://phoenix.LightLink.io/
Hi Roy! First off, we love the mainnet and testnet naming - Phoenix and Pegasus - what was your inspiration for these names?
Thank you! I was inspired by Saint Seiya, which was the first manga I ever read. From my memory, Pegasus represents aspiration, the drive to grow despite failures, and the ability to face increasing challenges. On the other hand, Phoenix symbolises immortality, strength, and unwavering support.
L2s are really hitting their stride thanks to scalability and cost as well as the ability to be secured by Ethereum. Can you talk about your unique features and what kinds of applications and projects you're seeing come to LightLink?
Absolutely. Layer 2s are designed for scalability, so our technology aligns with that vision. For mass adoption, usability is key. With that perspective in mind, we developed LightLink to offer gasless transactions, low latency, and high capacity among other features. We're seeing a lot of interest from DeFi projects in particular as our network features align with the needs of many DeFi users.
Interesting, tell me more about how your network aligns with DeFi principles.
At its core, DeFi is about token transfers, like sending USDT from one user to another. Consider a cafe scenario; there's no need for a "Mastercard coin". LightLink's architecture mirrors real-world transactions more closely. Users send USDT and receive USDT. It also opens doors for diverse business models, such as taking a percentage of the transaction with ease and speed.
At Blockscout we're witnessing a shift to an inter-chain, multi-rollup mode of chain interaction. You began with an optimistic rollup mentioned you are contemplating a zk rollup in the future. Could you shed light on your motivations and plans?
Vitalik Buterin has stated that all rollups will eventually be ZK, but it will take some time to get there <see https://www.theblock.co/post/162098/zk-rollups-likely-to-be-main-layer-2-solution-for-ethereum-says-vitalik-buterin>. We firmly agree that ZK rollups are the future of the blockchain industry, and that they are not quite ready for broad adoption due to various challenges. We plan to pursue a ZK rollup as the technology matures and will keep our community up-to-date on the progress.
You've recently shared thoughts on multi-chain architecture. Could you summarise your views for our readers?
In the current market landscape, L1 holds its place being highly decentralised with a thriving economy and extensive ecosystem participation. It's ideal for high-value tokens or unique profile pictures. However, for other valuable on-chain data like scores, experience points, or achievements, L2s offer the scalability needed. Many developers assume everything must be on one chain, but using multiple chains can be more efficient. A fun question I pose is, how would one mint 1 million NFTs?
It's true, when you think about scaling at those levels there's a need to support different types of architecture and options. That's something we think about a lot at Blockscout, supporting different use cases and chain infra to support faster blocks and massive amounts of data.
While we're seeing a lot of L2s gaining traction, we're also seeing more block explorers enter the market. Why did LightLink opt for Blockscout?
Actually, it was an easy decision. Blockscout stands out due to its professionalism, experience, and its use by many reputable chains. Importantly, they also support L2s, which aligns with our vision.
Thanks, yes we've been around long enough to see a lot of changes and are always working to support new features as they gain traction in the ecosystem. Now that Blockscout is fully synchronised with Phoenix and Pegasus, how is the explorer enhancing the experience for your users? What information do they prioritise when using LightLink?
Transparency is paramount in the blockchain world. With Blockscout, our users gain insights into ongoing activities and can navigate with confidence. We're keen on seeing further integrations, like links to NFT marketplaces, which Blockscout has been instrumental in helping with.
Yes, we're exploring ways to bring better NFT support to Blockscout users and LightLink will be one of the first beneficiaries. Recently our team has noticed increased community growth and explorer traffic. We're assuming this is coming from the LightLink Airdrop campaign - What should we anticipate in the upcoming period? Any exclusive tidbits for us?
We've enjoyed seeing a lot of participants go deep into the campaigns and complete all the tasks to collect each of the NFT's we are offering. For those that collect all four NFT's there will be a special surprise in store, something we have in the works alongside the distribution of our tokens. We believe that this phase of the airdrop program was great to build a social base for LightLink and have seen a strong community form, we think this additional surprise will further bond the community!
Awesome, anything else you'd like to share?
The blockchain industry is in its nascent stage. There's so much potential to tap into across various categories. For data and information dissemination, collaborations can be more open-ended. Drawing from the web, just as developers define HTML standards, we can set standards for data in web3. The focus should always be on collaboration, transparency, and composability in every aspect.
Thanks Roy! We're excited to see the continuing growth and usage of LightLink. We are developing more features for L2s with Blockscout and are excited to bring them to the LightLink environment! Blockscout is constantly evolving, and we look forward to supporting LightLink now and into the future.
For more on LightLink, please follow them on X and Discord.
To keep up with the latest on Blockscout, please visit us on X or Discord for more information and to get your explorer questions answered.